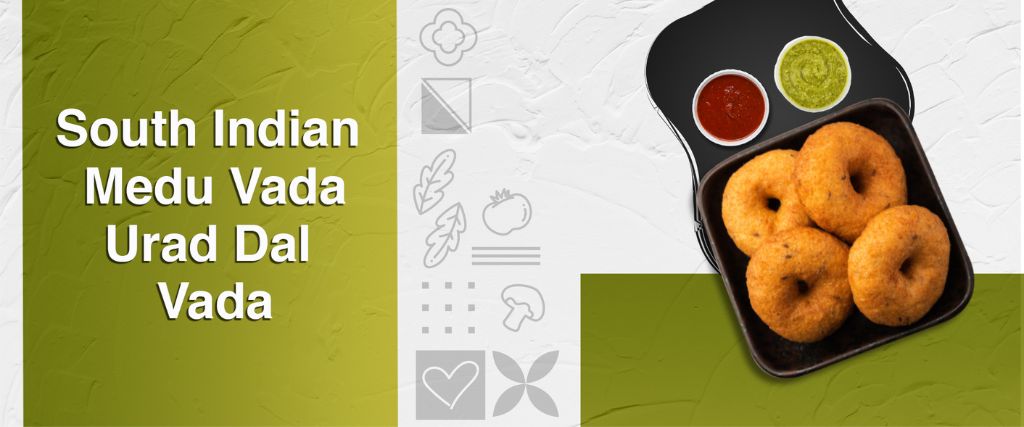 Medu Vada is a popular South Indian breakfast snack of donut shaped lentil fritters that are fluffy, crispy, soft and delicious. If you want a savory breakfast instead of something sweet, try these spiced donuts made with black gram lentils, herbs, and spices. These make for a cozy, filling, and
pleasant breakfast or snack when served traditionally with Sambar and Coconut Chutney.
Lentils or legumes, vegetables, sago, or a combination of these can be used to make a standard vada. Vegetables, seasonings, spices, and herbs can also be added to improve the flavor, texture, and nutritional content. Dahi Vada, Sabudana Vada, Maddur Vada, among other vada varieties.
In essence, medu vada are savory donuts prepared from black gram, coconut, herbs, and spices. In Kannada, the word medu means soft and vada means fritters.

Here are the steps for you to make the most delicious, crispy medu vada –
1. Rinse 1 cup of husked, split, or whole black gram in water several times. The lentils should then be soaked for at least 4 to 5 hours or up to overnight in 2.5 to 3 cups of water.
2. Remove the water and discard it. Put the soaked urad dal in a jar with a grinder. If necessary, add 3 to 4 tablespoons of fresh water. Just watch out for overly thin batter!
3. Start grinding the urad dal into a smooth batter. The batter ought to be thick and airy.
4. A quick way to check the perfect and right consistency of the batter is to add a small spoon of it in
a bowl of water. The batter should float and remain intact. If it floats and does not get dissolved,
then you have achieved the right consistency.
5. All the ingredients should be measured and kept on hand for the batter. Add the following herbs
and spices to the batter:
1 tablespoon chopped curry leaves
1 teaspoon finely chopped green chillies
1 teaspoon finely chopped ginger
1 pinch asafoetida
½ teaspoon cumin seeds
½ teaspoon lightly crushed black pepper – can use whole peppercorns as well. The addition of black
pepper gives a good taste but is optional.
½ teaspoon salt or as required
You can also add ⅓ cup finely chopped onions or shallots; 2 tablespoons of chopped coriander
leaves and ¼ cup chopped fresh coconut pieces.
6. Thoroughly mix the salt, herbs, and spices with the batter. The batter does not need to be
fermented. It can be put to use immediately away. Examine the batter's flavour and, if necessary,
season with salt.
7. Fill a basin with water. Use some of the water in the basin to wet both of your palms. Grab some
batter from the bowl using your right hand. Move it in a circular motion in your right hand to give it a
rounded form.
8. Create a hole in the middle with your thumb. To give the medu vada its doughnut form, you can
alternatively use banana leaves or zip-top bags.
9. Heat oil in a kadai over medium heat. Slide the medu vada into the hot oil.
10. When the vada or garelu is just beginning to turn brown and the batter appears crisp, carefully flip
it over using a slotted spoon and continue to fry. Medhu vadai should be fried till crisp and golden.
11. To drain off extra oil, place them on kitchen towels. In this manner, form the vada batter before
frying it in hot oil.
With sambar and coconut chutney, serve Medu, Garelu, or Uzhunnu Vada hot or warm. Enjoy!