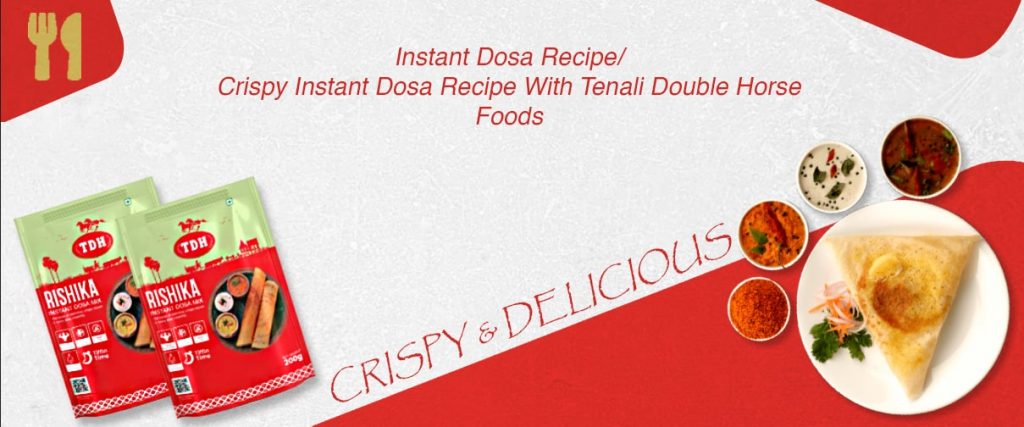 Instant dosa recipe | crispy instant dosa recipe with TDH Foods
A dosa is a thin batter-based pancake originating from South India, made from a fermented batter mainly consisting of lentils and rice. Its main ingredients are rice and black gram, ground together in a fine, smooth batter with a dash of salt, then fermented.
Here are 4 reasons why dosas are healthy for your body:
Easy on your Digestive System
Dosas are not just a treat for your taste buds, but also light on your digestive system.
The best source of carbohydrates
Dosas are rich in carbs, and they supply you with all the energy you need for the day.
Good source of protein
Dosa paired with sambhar is a great combination for taste, and also gives your body the protein-rich diet it needs.
Low on fat
Dosa is a healthy breakfast for people to keep a check on their fat intake. 
With TDH Foods Instant dosa mix, you get everything ready for an instant dosa in one pack. No hassle of anything for you to make yourself some of the perfect dosas. Here's a step by step process for you to make the perfect, round dosas:
1. To make batter, take dosa powder in a bowl. You can add in curd and mix well into a good paste.
2. Add a little water to the mixture to make the batter smooth yet thick.
3. Once the batter is made, you may add baking soda to the batter and mix it well.
4. Now heat the pan on a high flame, and you may clean it once with a mixture of oil and water for the batter to not stick on to the pan.
5. Now pour a ladle of batter in the center of the pan and spread gently all over the pan, in one same direction.
6. Maintain it on medium flame, and add some oil or ghee to it and let it cook.
7. Once you see a golden brown on the dosa, it means it is cooking and ready to be served. 
8. Once done, you can get it off the pan, and serve hot.You can serve it with korma, sambar, coconut chutney or simple aloo masala for you to enjoy the most delicious, healthy dosa.