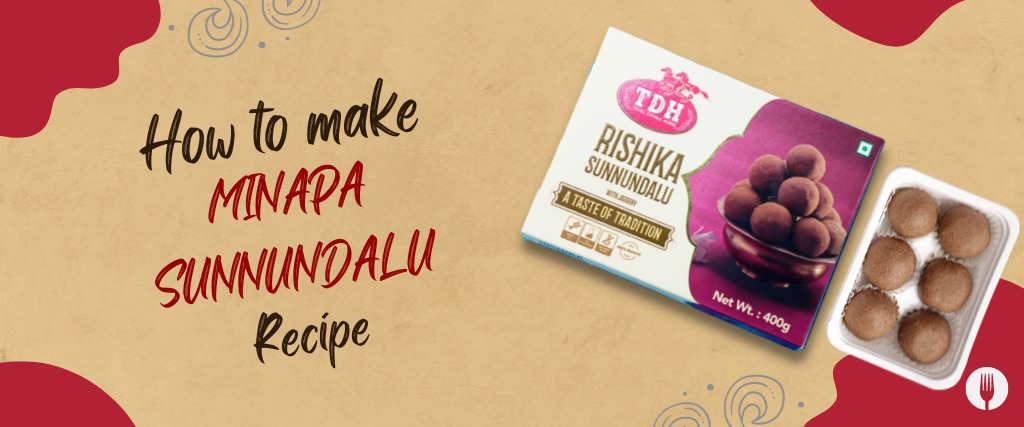 How to Make Minapa Sunnundalu Recipe?
Sweets take up a major part of all occasions in every household. And especially ending every meal with a sweet is a tradition in India. Every state in India has a special sweet of its own, and Minappa Sunnundalu is a delicacy that hails from Andhra Pradesh. It is usually made during any festive season and special occasions. It is a very easy to make, healthy sweet that can be made at the comfort of your home, with minimal ingredients. If you're looking to make this, here's a simple recipe to make Minappa Sunnundalu at home and we bet all your loved ones will fall in love with this.

Here are the important ingredients you'll need to make Minappa Sunnundalu:
The ingredients below are for a serving of 6
1. 1.5 cups of roasted Urad Dal
2. 1 cup Sugar
3. 1 tablespoon of rice
4. ½ cup ghee or more as you wish

– To start off with, choose a vessel and heat over medium flame and roast the rice a little till it turns red and turn it off.

– Now roast the Urad Dal on low flame until it gives an aroma, and turns into a golden color. This generally takes around 20 minutes. Keep stirring as it avoids anything to burn. Now post this, you can turn it off and allow it to cool off.

– Now add both these into a mixer and grind well until a fine powder is achieved. Add some sugar and powdered jaggery as well, once the powder is ready.

– Now take a pan and heat it over medium flame, add ghee and make it hot. Once the ghee is hot enough, take a wide tray, put the dal and rice mixture with the ghee and mix them all well until the whole mixture is distributed equally and binds together.

– Now apply some ghee on your palms, and take a small portion of the mixture and roll them in your hands to make small round laddus.

– Tasty, healthy Minappa Sunnundalu are now ready. You can garnish them with any kind of dry fruits or nuts to accentuate the taste and look.